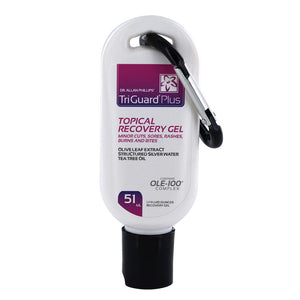 TriGuard Recovery Gel (100ml) - Oxygen Nutrition
$37.50

$37.50
Tax included.
---
---
TriGuard Plus - Topical Recovery Gel
Now with OLE-100, a Powerful and Natural Anti-Microbial Complex.

TriGuard Plus - Topical Recovery Gel contains OLE-100 Complex, a unique & proprietary blend of highly concentrated Olive Leaf Extract, Structured Silver Water, and a water-soluble, ingestible-grade Tea Tree Oil. These powerful ingredients are carefully blended into an extremely potent natural recovery gel.*

Ingredients: Purified water, OLE-100 Complex (olive leaf extract [alcohol-free, processed with low-heat], structured silver water [purified silver, purified water] and tea tree oil [ingestible-grade]), vegetable glycerin, carbopol, glucamine.

Directions: Apply a thin layer of gel and massage gently into skin for most minor skin irritations, including cuts, rashes, burns, insect bites, and dry/cracked feet. Use as needed or as directed by a physician.
Triguard® Plus - Topical Recovery Gel
 Topical Skin Support For:
infections
bacteria / parasites / fungi
microbes
pathogens
minor burns & bites
minor cuts & scrapes
sunburns
razor burn (face & body)
yeast / candida
jock itch
USES
topical (external use only)
rub on skin
The Food & Drug Administration has evaluated none of the above statements. This product is not intended to diagnose, treat, cure, or prevent any disease.
WARNING: FOR EXTERNAL USE ONLY. Do not put in eyes, mouth, or other sensitive areas. If irritation persists, discontinue use and consult a physician. KEEP OUT OF REACH OF CHILDREN.