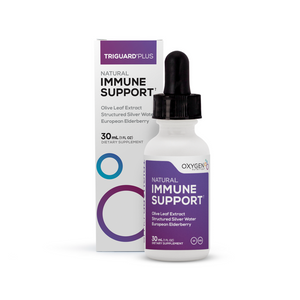 TriGuard Plus 30ml size
$37.95

$37.95
Tax included.
---
---
NATURE'S ANTIMICROBIAL COMPOUND

IMAGINE FAST, EFFECTIVE COLD AND FLU RELIEF WITHOUT ANY ADDITIVES!*

TriGuard® Plus is the latest in natural, lasting immune support.*

TriGuard Plus Natural Immune Support can help your body fight off a cold and limit symptoms from even starting in the first place.*

 

NUTRITIONAL & TOPICAL SKIN SUPPORT FOR

infections*
bacteria / parasites / fungi*
microbes*
pathogens*
minor burns & bites
minor cuts & scrapes
sunburns
razor burn (face & body)
yeast / candida*
jock itch

USES

throat spray
spray on skin
spray on fruits and vegetables
spray on toys / hands / countertops
cleansing / disinfectant solution for floors & surfaces

* The Food & Drug Administration has evaluated none of the above statements. This product is not intended to diagnose, treat, cure, or prevent any disease.